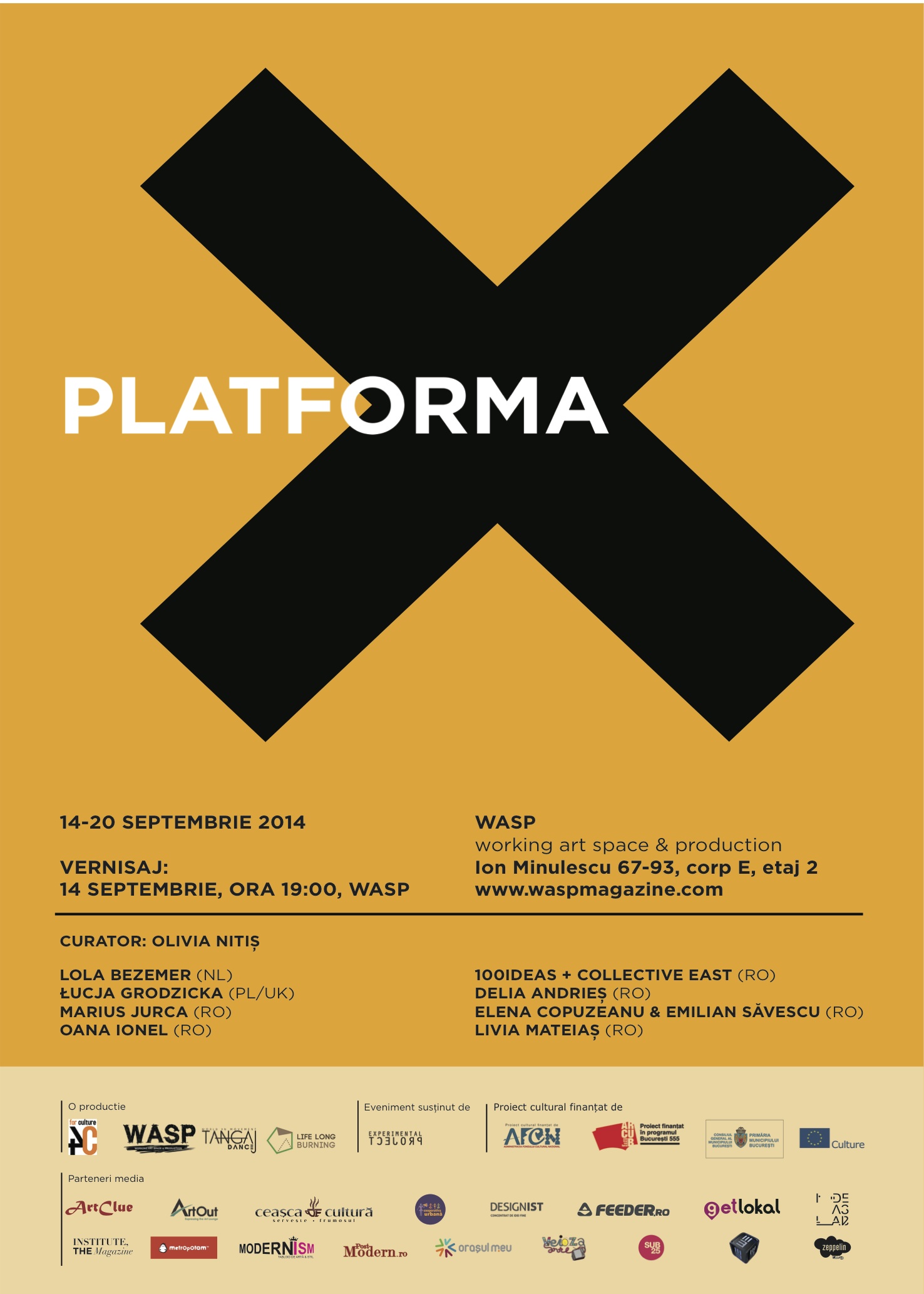 WASP — Working Art Space And Production vă invită duminică, 14 septembrie 2014, ora 19:00, la vernisajul expoziției Platforma X, cel mai nou program internațional de rezidențe artistice pentru cercetarea și producția de proiecte interactive, new și trans-media din București.
Selectați în urma unui concurs de proiecte, 12 artiști tineri din București, Timișoara, Amsterdam și Londra, cu background-uri variate, de la arhitectură și pictură până la performance sau programare, au avut timp de o lună ocazia de a explora și de a dezvolta instalații individuale sau de grup la WASP, în regim de mentorship, coordonați de Marilena Preda-Sânc, Ciprian Ciuclea, Jan Eugen și Cosmina Chițuc.
Lăsând în urmă lumea instituționalizată a artei, proiectul este un manifest de creativitate și inovație a noii generații. Platforma X încurajează perspectiva spațiului în continuă mișcare și transformare și urmărește tema reimaginării/reconfigurării perimetrului expozițional din cadrul WASP. Cele opt proiecte expuse în 2014 caută să stârnească curiozitatea, să se joace cu posibilitățile de percepție și să creeze o dezorientare deliberată.
Rezultatul final este coagulat de Olivia Nițiș, unul dintre cei mai apreciați curatori de artă din România la momentul actual:
"WASP este un spațiu de producție, însă rezultatul final nu este doar susținerea financiară a unor proiecte individuale reunite într-o expoziție de grup. Șansa la dialog, la întâlnirile cu alte tipuri de gândire pentru tânăra generație și nu numai, este rară și fundamentală, având în vedere că în ciuda orgoliilor personale artistul contemporan este forțat să se plaseze în permanență și în afara sa, să țină seama de contexte și de poziția în care se află.
Expoziția realizată în urma programului internațional de rezidențe în sistem de mentorat Platforma X propune un traseu printr-un conținut multimedia interactiv coordonat de limitele spațiului și mișcării. Prelucrarea și programarea digitală au produs instalații video și de sunet de la realități concrete, precum investigația socială, până la imaginea artificială. Anumite intervenții în spațiu au rolul de redefinire a granițelor de mișcare, pecepție și interpretare."
Artiști: 100ideas + Collective East (RO), Delia Andrieș (RO), Lola Bezemer (NL), Elena Copuzeanu & Emilian Săvescu (RO), Łucja Grodzicka (PL/UK), Oana Ionel (RO), Marius Jurca (RO) și Livia Mateiaș (RO).
Expoziția este deschisă publicului în săptămâna 14 — 20 septembrie, între orele 13:00 – 17:00, la WASP — Working Art Space And Production, str. Ion Minulescu 67-93, corp E, etaj 2.
Facebook event: http://www.facebook.com/events/846390718711891/
Platforma X este o co-producție 4Culture, WASP — Working Art Space And Production, Tangaj Dance și LifeLongBurning, cu sprijinul programului Cultura 2007-2013 al Uniunii Europene. Proiect cultural finanțat de AFCN — Administrația Fondului Cultural Național și Centrul de Proiecte Culturale al Municipiului Bucureşti — ARCUB, prin Programul Cultural București 555.
*Acest proiect a fost finanțat cu sprijinul Comisiei Europene. Această comunicare reflectă numai punctul de vedere al autorului și Comisia nu este responsabilă pentru eventuala utilizare a informaţiilor pe care le conține.
WASP — Working Art Space & Production este un spațiu independent alternativ dedicat dansului contemporan, experimentelor în arta vizuală, teatrului contemporan underground și dependenților de multimedia. Reutilizând 500 de metri pătrați ai unei foste fabrici comuniste, locul găzduiește anual eXplore Dance Festival – Bucharest International Contemporary Dance and Performance, cât și birourile asociației 4Culture.