Artist Maude White combines her gorgeous illustrative skills with intricate paper cutting expertise to create incredible paper work creations. A self-taught artist, she credits her Waldorf education and artistic family for encouraging her to create.
"I am influenced by my mother's art a great deal. When I was little she would make wool felt playscapes — little scenes of a tree stump in a forest-covered in plants and animals, a small garden scene with vegetables and apple trees, a playscape for the story The Three Billy Goats Gruff. It was these types of small, precious, complete worlds that drew me to working with paper." (Source)
Using an X-Acto knife she cuts each piece by hand slicing away the negative space to make elegant figures with fantastic hidden scenes and stories laced into the designs. "It may sound weird, but I love to cut. I just enjoy the process," she said in an interview.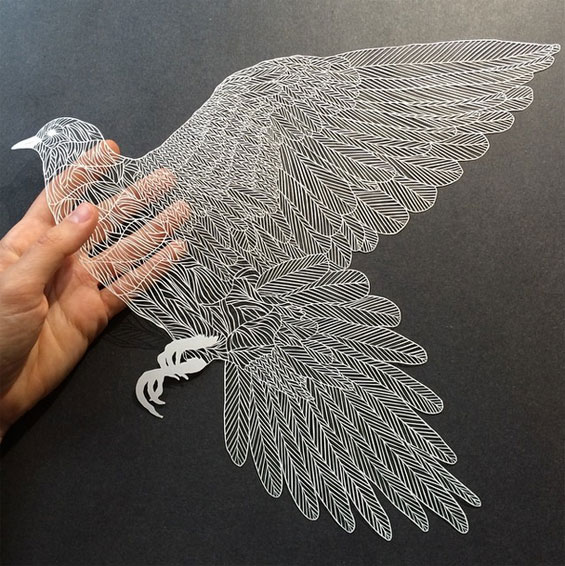 White's paper cutting technique is almost unbelievable—the fine lines and elaborate detail are incredibly impressive. What gives these pieces their charm, though, are the whimsical drawings and ornamental designs. They would be lovely drawn on paper, but the delicacy of the paper, the cast shadows, and the ability to look through the empty spaces make these pieces captivating.
"When I cut paper, I feel as if I am peeling back the outer, superficial layer of our vision to reveal the secret space beneath. With paper cutting there are so many opportunities to create negative space that tells its own story. Letting the observer become present in the piece allows him or her to look through it. … I am not creating for Art's sake. I am creating for Paper's sake, to make visible the stories that every piece of paper attempts to communicate to us." (via booooooom)
Amazing Hand Cut Paper Pairs Illustration With Incredible Technique appeared first on Beautiful/Decay Artist & Design.