Andi Schreiber refuses to disappear. In her ongoing series, "Pretty Please", she documents life as an aging suburban mom in a youth-obsessed culture. "Middle-aged mom" must be one of the least sexy descriptors around, redolent of yoga pants and stretch marks and sun-damaged skin. Yet as the years have passed, Schreiber has continued to feel young and sexual, even as she's felt that society has closed those roles to her. She says:
"When I was in my thirties I heard the expression "Invisible Forties." I couldn't imagine how sexually inconsequential I'd feel throughout this decade."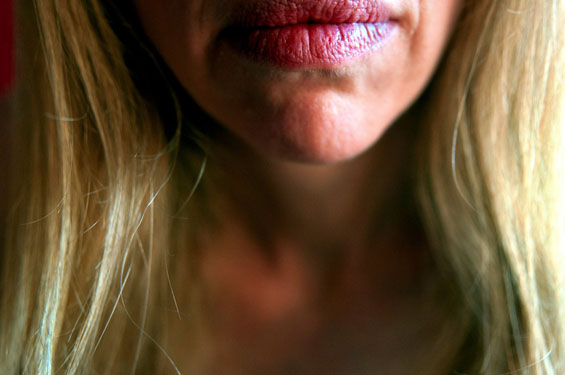 The powerful documentary style photos in "Pretty, Please" beg you to look. Honest and vibrant, they are not always comfortable. Victoria's Secret has trained us to expect sexy lingerie on a young, taut body, not on folded and stretched skin. And yet, why isn't this just as beautiful? Grow old or die, those are the only options. Why can't we appreciate the child-scarred body of a woman who wants to be seen?
Self-portraits are interspersed with images from Schreiber's life. A drop of blood on the toilet seat symbolizes her ebbing fertility; the lit interior of her closet holds neatly hung clothes and shelves of shoes, but also, stashed up and away, naked kewpie dolls, whimsical and eerie.
"You get into your 40s and things are very different, your perspective changes, and the way the world looks at you changes as well."
In "Pretty, Please" we're looking at Andi Schreiber and she's looking back. This is definitively her — her life, her body, her blood — and yet this desire to be seen, to be valued on her own terms, could also represent the scores of middle-aged women who chose family and stability and have had their sense of self sacrificed to their suburban houses, and diapers, and carpools.