Believe it or not, these very old drawings of Japanese men farting are not Photoshopped. The images were produced during the Japanese Edo period (1603 – 1868), and they depcit what is called he-gassen or "farting competition." They show men shooting noxious blasts of gas towards other men, women, and animals (including a cat!). Seemingly, the force of the farts is so great that it the targets turn topsy-turvy when hit.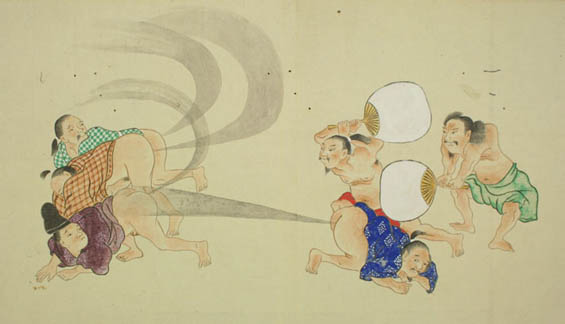 These drawings are peculiar, and not having a vast knowledge of Japanese culture makes their meaning even more alluring to me. Luckily, the website Naruhodo explains the historical context. They write, "similar drawings were used to ridicule westerners towards the end of the Edo period, with images depicting the westerners blown away by Japanese farts."
The individual images originally appear on a scroll, which has obviously been sectioned off today. You can view it in its entirety here. It's funny to think that farts have always been a source of amusement, even across time periods and cultures. (Via Dangerous Minds and Naruhodo)
Ancient Japanese Scrolls From The Edo Period Depict Farting Competitions (NSFW) appeared first on Beautiful/Decay Artist & Design.