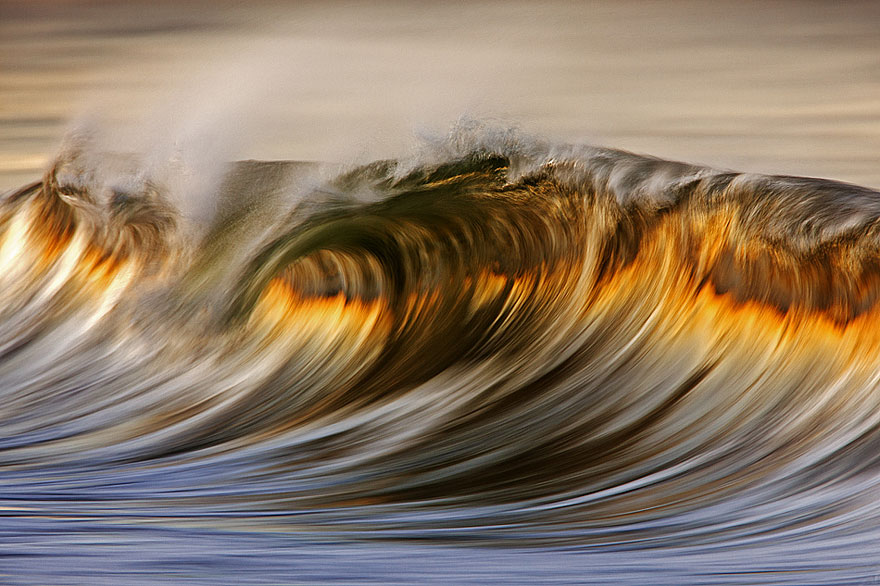 You may think you're looking at some beautiful paintings of the sea, but these are actually long exposure pictures, taken by David Orias! Santa Barbara-based photographer allows us to see the kind of water formations that we couldn't otherwise: David takes his photos at the break of dawn, when the sunlight creates the most unbelievable color palette's that look like paint strokes on canvas.
The stunning photo series, titled Waves, were taken at the beaches of Southern California. "Southern California has its fire season and sometimes this creates conditions of eerie orange light in the morning as the sunlight is filtered and scattered by smoke particles. This creates unusual and to some viewers unrealistic colors. I take the baseline colors and work with them to create a fine art appeal," says David.
David uses a telephoto lens, which, together with long exposure, allows him to capture a wide range of sea motion: the massive waves of the Californian beaches look alive and organic even in the static pictures. Makes you wanna pack your bags and get that plain ticket right now!
Source: 500px | Facebook | flickr | via: thisiscolossal
Long Exposure Photographs of Waves by David Orias originally appeared on Bored Panda on July 11, 2013.