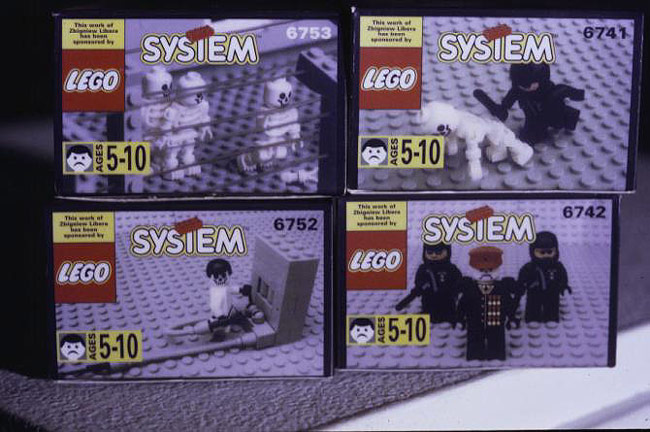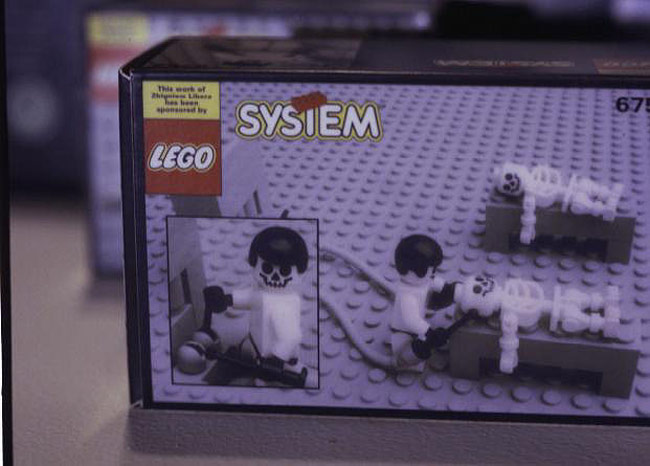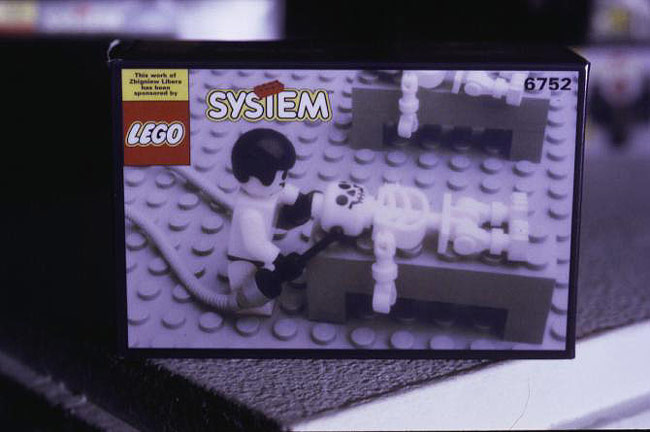 Zbigniew Libera was born in 1959, Pabianice, Poland, He began his artistic career in the 1980's by printing leaflets and posters protesting against the introduction of martial law. He also printed leaflets for the Solidarity movement. In the autum of 1982 he was arrested and sentenced to 18 months in prison for printing and distributing anti-state publications.
Libera is one of the most provocative Polish artists currently working. His other works include ironic and sometimes darkly humorous deconstructions of children's toys and mass-produced consumer goods.
He became well known for the Lego Concentration Camp (1996), which was exhibited as part of Absence/Presence, creating much controversy.  All of the building blocks used were readily available and used from actual LEGO products. LEGO actually created the boxes for Libera.  Once it was discovered what he was doing, LEGO insisted that they did not endorse the work and at one point tried to sue him, but dropped the suit.
Article
Zbigniew Libera's Lego Concentration Camp: Iconoclasm in Conceptual Art About the Shoah by Stephen C. Feinstein. Other Voices, February 2000.
Artist's Statement
My ability to work with objects is taken from everyday urban contemporary life. In my study of the development of correctional devices and educational toys, I see such devices reveal more about a society and its mechanisms for creating and enforcing its norms than any study of society could.
LEGO, a construction made partially from various Lego kits, takes us into a village with a mental hospital, Stalin's prison, World War II and Bosnian concentration camps. Thus, I fell I mix historical with contemporary references to represent our world, our little inferno, as built and sanctified by norms.
Eroica, is a four-boxed set of toy soldier-sized women figures. They are based on classical models. They are a reminder that in the 1990s no toy soldier set is complete without the inclusion of women, who have become the special targets of victimization in genocidal settings such as Bosnia, where rape camps have been well documented. Such is the fashion of "heroic" actions of armies in genocidal and even less violent encounters where women are victims.
During an academic conference in Brussels in December, 1997, an agitated audience, who felt that the Lego Concentration Camp was a real toy which was available for sale, demanded that I comment about why I constructed it. My response then, as it is now, was: "I am from Poland. I've been poisoned."
– Zbigniew Libera
7 box LEGO set, edition of 3.
Original art work made with LEGO (c) bricks from the LEGO CORPORATION of Copenhagen. The LEGO Corporation does not endorse this art work and has not subsidized its production.
Permission of the artist. Galleri Wang, Oslo, Norway, and Paulina Kolczynska Fine Arts, New York.
January 2012. The Museum of Modern Art in Warsaw, Poland, announced on its website that it has acquired Libera's concentration camp creations. The museum said it purchased the artwork on Dec. 30 from a Norwegian art collector for 55,000 euros, or approximately $71,800. The museum described the pieces as "one of the most important works of contemporary Polish art." Full article below.
The Jewish Museum in New York, NY, hads these sets as part of a display from March 17 to June 30, 2002. The exhibit was Mirroring Evil: Nazi Imagery/ Recent Art.